Wendy received her fromal training in gardening in 1994 from the UC Santa Cruz ecological horticulture apprenticeship and later earned a B.A. from the Culture, Ecology, and Sustainable Communities program at New College of California. French Intensive and Permaculture techniques were put into practice on the farm and selling produce at Farmers Markets became a mainstay of the farm from 1995-2005.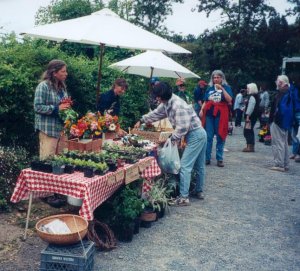 Volunteers helping with produce sales at a local Farmers Market.



From 1998 through 2012 over 200 short-term and long-term volunteers and interns participated in the farm, receiving hands-on education in organic gardening techniques, sustainable living skills and animal husbandry.



In addition to organic fruits and vegetables, the farm produced a wide variety of items for sale such as eggs from pastured poultry, wool from Shetland sheep, walnuts, cut flowers, fruit preserves, baked goods, nursery plants, and herbal salves and soaps made in small batches in the farm kitchen.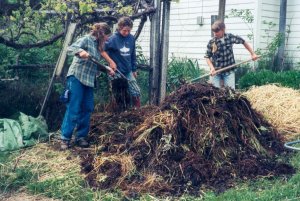 Volunteers learning how to make French Intensive-style compost.

The use of appropriate technology had always been a main feature of the off-grid homestead. A traditional gravity flow spring water system required constant maintenance to supply the house and irrigate the garden. Electricity for the house was provided by a home built micro-hydro electric system and later an upgraded solar system installed with the help of volunteers.

Hand tools and projects oriented towards a human scale rather than mechanization were the farm theme, with occasional help from the ponies. As well as providing "natural horsepower", the ponies played a vital role in the soil fertility program by providing manure for compost. Following traditonal methods, each batch of compost requires careful monitoring and turning to ensure that all ingredients reach 150 degrees F, resulting in a complete and balanced fertilizer.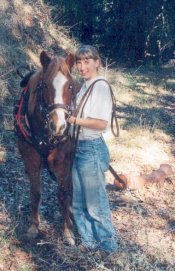 Using pony power to haul firewood.
The ponies became an integral part of the farm ecosystem and also well-loved members of the family. They received firm but gentle training, and family and volunteers enjoyed riding and driving them for pleasure as well as for farm work. Horse training and teaching horsemanship became an incresingly important part of the farm from 2001 onward.