Lone Tree Farm
P.O. Box 425
Boonville, CA 95415
Contact Wendy Rowe at (707) 895-3406 (pacific time zone)
or email us: pibroch@mcn.org
---
Home || About Lone Tree Farm || About Scottish Highland Ponies || Highland Stallion at Stud || Ponies For Sale
Harness, Tack, and Equipment for Sale || News from the Farm/Calendar of Events || Highland Bagpipes
|| Fine Art and Illustration || Links to Interesting Websites
---
Ceol Beag Harris
Pictured at 2 days old:

Pictured Sept. 2003.
He is a cutie and has a wonderful friendly disposition too!
pictured at 14 months:


Harris is growing up to be a very handsome boy.
He went to a local show 6/27/04 and was calm and well behaved for 4 in-hand classes, first time away from home!

---

February 2005. Harris is now started under saddle.

August 2005, Harris was ridden and loved by children
ages 5-12 during a week long pony camp at Mountain
View Stables. Click here for more pony camp photos.

October 2005


Harris at a 4-H polo clinic November 2005.

2006


Fall 2006, schooling over fences.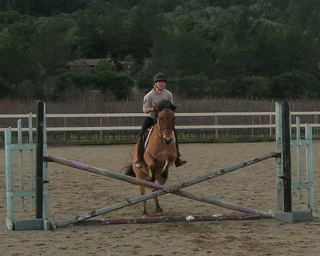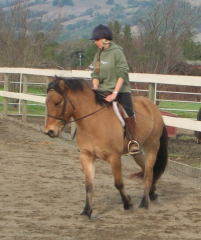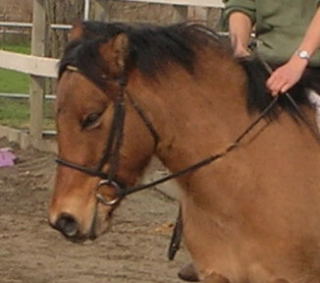 ---
January 2007. A ride on the beach on a very cold windy day, just after a big storm. Foam was blowing sideways accross the beach in big bunches. Clumps of foam the size of chickens would come skimming accross the sand right under the horses legs and then break into tiny pieces. At times it looked like herds of white mice racing accross the beach. I've never seen anything quite like it!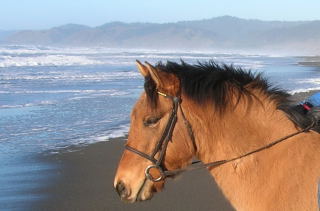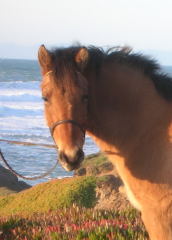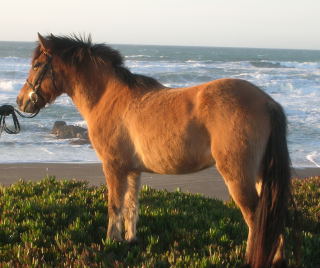 ---
Home || About Lone Tree Farm || About Scottish Highland Ponies || Highland Stallion at Stud || Ponies For Sale
Harness, Tack, and Equipment for Sale || News from the Farm/Calendar of Events || Highland Bagpipes
|| Fine Art and Illustration || Links to Interesting Websites
---
© 2000-2005 All rights reserved.
Web Site Design by

Get On Line Associates